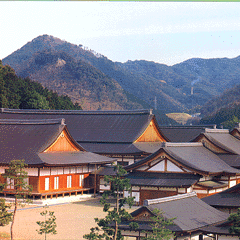 Baisho-en
("Garden of Plum and Pine Trees")
in Ayabe

Ayabe is a rural community eighty kilometers northwest of Kyoto, and is the birthplace of Oomoto. The Oomoto headquarters at Ayabe is called Baisho-en and with its many worship halls, clusters at the foot of Mt. Hongu.
Oomoto came into being at the lunar New Year's of 1892 when the Foundress, Nao Deguchi, received the first communications from spirit concerning the reconstruction of the world and the coming of the New Age. Today, Ayabe is Oomoto's spiritual center of worship.
In Ayabe worshippers celebrate Spring and Autumn Festivals, and the Setsubun Grand Festival. They also observe a monthly ceremony on the first Sunday of each month, marriage ceremonies, and memorial services for the dead.
Oomoto, Baisho-en, 1 Hongu-cho, Ayabe-shi, Kyoto-fu, 623-0036 Japan
Phone: +81-773-42-0187
Fax: +81-773-43-0220
Ten minutes on foot from Ayabe Station on the JR San'in (Sagano) line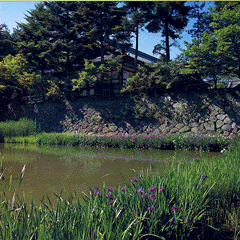 Ten'on-kyo
("Birthplace of Heavenly Benevolence")
in Kameoka

Kameoka, located twenty kilometers west of Kyoto, is the birthplace of Onisaburo Deguchi. Oomoto's spiritual center, Ten'on-kyo, is located in the center of the Kameoka basin. Kameoka is Oomoto's teaching center where can be found offices, schools, and lecture rooms.
Ten'on-kyo stands on the ruins of the ancient Kameyama castle. After the Meiji Restoration (1868) the castle with its walls and moats was left to disintegrate, and in his childhood Onisaburo often played in those ruins. Eventually, in 1919, Onisaburo bought the historical remains, rebuilt the walls, and established the surrounding area as a spiritual center
In 1935, in the Second Oomoto Incident, the police completely destroyed the facilities including the worship hall. In 1945 Oomoto was adjudged not guilty and the persecution came to an end. There then remained the job of rebuilding the entire facility from the ground up.
At Ten'on-kyo Oomoto followers celebrate the Summer Grand Festival, conduct monthly ceremonies on the first Sunday of each month, hold wedding ceremonies, and the like.
Oomoto, Ten'on-kyo, 1 Uchimaru, Aratsuka-cho, Kameoka-shi, Kyoto-fu, 621-8686 Japan
Phone:+81-771-22-5561
Fax:+81-771-25-0061
Ten minutes on foot from Kameoka Station on JR San'in (Sagano) Line