This is the speech for people of Oomoto after the Kaiso-taisai Festival at Choseiden Sanctuary.(November 6, 2002)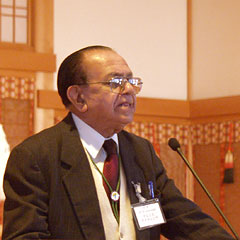 Greetings and best wishes from U.L.B.A. overseas branches to the members gathered at this Autumn Festival. The greatest need for the world today is Permanent Peace and the establishment of a world without borders.
It is my wish that we all join in a great attempt to bring about World Federation in the 21st century, because if we do not work for this, Planet Earth will not be able to survive.
As the founder of U.L.B.A. Onisaburo Deguchi has said we must spread the spirit of Aizen throughout the world. We the overseas branches intend to do this by establishing branches in Africa, Europe, and the Americas.
Finally it is my belief that warring nations in the world today desperately need the message of Oomoto. Forward to World Peace through a Federation World.