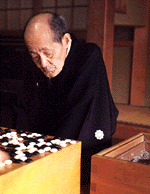 Birth and Passing
Hidemaru Deguchi was born in Kurashiki City, Okayama Prefecture, in 1897. He passed away in December of 1991, when he was ninety-six years old.
A Man of Two Worlds
As a young man, Hidemaru Deguchi already showed extraordinary spiritual sensitivity. He entered Oomoto in 1919, and was married to Naohi Deguchi in 1928.
During the Second Oomoto Incident, Hidemaru was imprisoned for four years, during which the authorities subjected him to severe torture. Subsequent to his release, he provided Naohi Deguchi with spiritual support, devoting himself to the spiritual salvation of all people. His biography is entitled, "A Man of Two Worlds: Hidemaru Deguchi."

"In Search of Meaning"
Hidemaru Deguchi authored many literary works, including "Conversations on Faith," "Discussing Faith," and the eight-volume "Remembering Faith." These are not only optimal guidebooks to beginners seeking faith, but also excellent sources of profound inspiration for any persons desiring to truly live.
Young people in particular have shown great appreciation for the three-part work, "In Search of Meaning,"* "Creation of Meaning," and "Affirmation of Meaning." They became famous when the 1984 Los Angeles Olympics gymnastics champion Koji Gushiken attributed his success to these three books.

---