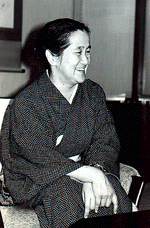 Birth and Passing
Kiyoko Deguchi was born in 1935, the third daughter of the Third Spiritual Leader Naohi and her husband, Hidemaru Deguchi. Upon the passing of the Third Spiritual Leader, Kiyoko was invested as Oomoto's Fourth Spiritual Leader on September 23, 1990. She passed away in 2001, at the age of 66.
Leadership for Oomoto Believers
Kiyoko had many opportunities to serve at her mother's side, and so gained much guidance and influence from her. She was a great lover of flowering plants, and held traditional Japanese culture in very high esteem. Well versed in Japanese tea ceremony, noh theater, the two-stringed koto and other traditional arts, she practiced her conviction that faith and life are expressed through art. As Oomoto's leader, she focused on improving believers' level of faith.

=> a Tribute to the Fourth Spiritual Leader, Kiyoko Deguchi
---